seminar and wedding room Var
Privatize
Le Mirage Hotel
Privatise the Mirage Hotel
A unique venue for a unique event
The Hotel Le Mirage is the perfect place to organise a private event.
With its dominant location and its view of the Mediterranean, its magnificent terrace, its swimming pool, its 2 reception rooms, it is the ideal place to celebrate or gather family, friends or colleagues.
Our team is at your disposal to create a tailor-made event.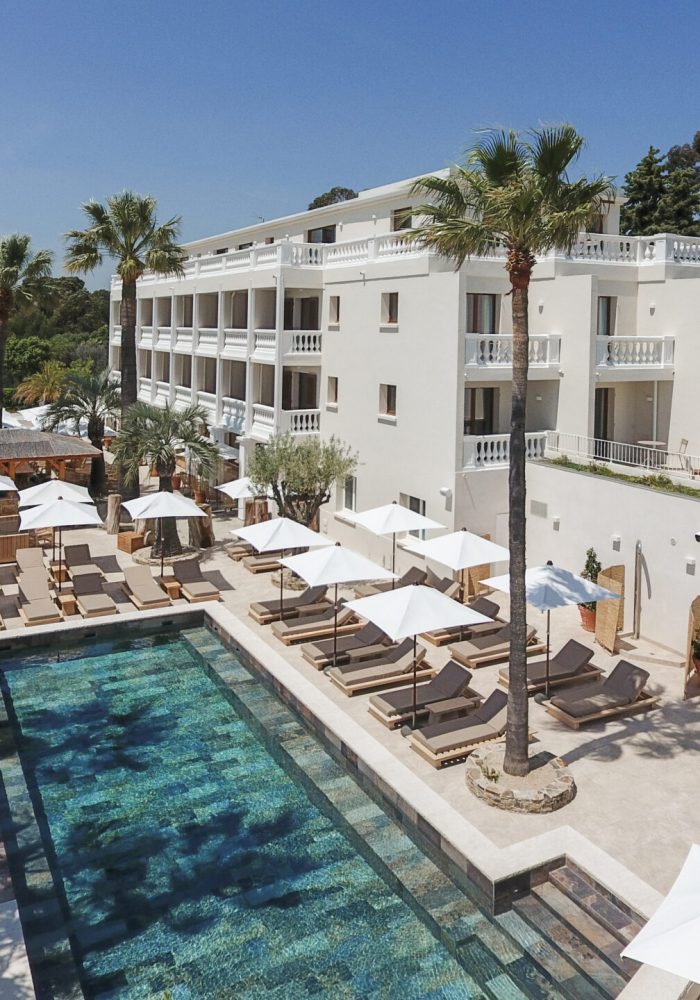 wedding domain in the var
A magical place for the most beautiful day of your life
Le Mirage Hotel welcomes you to celebrate your special day out of time.
Receive your guests under the song of the cicadas, in the heart of a natural setting with an exceptional view of the sea.
This superb building located in Bormes-les-Mimosas, is the ideal place to organize your beautiful event.
Spaces and capacities
The magnificent terrace is suitable for a wine reception, a sit-down dinner or a buffet for up to 100 people.
The setting is enhanced by giant palm trees.
Benefits
The team at Le Mirage Hotel will accompany you throughout your project and guide you to ensure its complete success. Contact them now for more information on the services available
Gastronomy
The Mirage's restaurant team will propose a tailor-made menu. You will benefit from an excellent choice of food and wine to delight your guests' taste buds.
Housing
For newlyweds, Le Mirage Hotel has a suite, where they can enjoy the peace and quiet of the hotel on their wedding night.
Other facilities
The car park is secure and closed. You will also have access to the petanque court and the private swimming pool.
Privatisation for a seminar or a company party
For your company evenings or seminars lasting several days in the Var, take over the hotel and restaurant and make your company stay a unique experience.
Our team is at your disposal to organise your professional stay, as close as possible to your requirements.
A wide range of activities can be arranged to suit your needs, such as pétanque, a sporting challenge, a trip to the sea, a bike ride, wine tasting, etc.
Our 2 seminar rooms are equipped with the latest conference equipment.
The Mirage hotel is the ideal place to motivate your employees, under the sun of the Var.
For more information or a quote, please contact us
The Mirage, the ideal setting for your most beautiful moments
L'hôtel-restaurant le Mirage s'adapte à vos besoins et vous propose de venir passer vos événements en son sein. Pour un mariage ou une cérémonie, nous vous proposons de privatiser notre restaurant ou notre hôtel pour passer le plus beau des moments avec une magnifique vue sur mer au bord de la côte d'Azur.
Votre mariage est, sans le moindre doute, le jour le plus important de votre vie, un jour unique, magique et magnifique. L'hôtel le Mirage vous offre une expérience inoubliable pour votre mariage dans le Var avec son lieu atypique, le village de Bormes-les-Mimosas.
Organisez votre mariage en Provence-Alpes-Côte d'Azur et profitez d'un lieu de réception unique au cœur de votre hôtel-restaurant le Mirage. Situé dans un cadre de nature proche de la mer, l'hôtel le Mirage vous offre un lieu d'exception pour organiser le plus beau des mariages dans le Var.
Profitez de la vue sur mer de la terrasse pour prendre de magnifiques photos avec votre âme sœur et vos invités.
Au lieu d'une simple salle de réception, optez pour un cadre splendide pour votre mariage où vous n'aurez plus à vous soucier de l'hébergement et de la restauration de vos convives. Pour votre salle de mariage dans le Var, et l'organisation de cet heureux événement, privatiser l'hôtel le Mirage.
Pour toutes vos soirées d'entreprise ou vos séminaires dans le Var, nous vous proposons de privatiser notre hôtel et notre restaurant afin d'organiser le meilleur événement. Organisez votre séminaire à l'hôtel le Mirage et profitez de nos prestations avec tous vos collaborateurs.
Trade in the traditional room rental and opt for the privatisation of an atypical setting for your professional event. Depending on the number of participants in your seminar, it is much more interesting to privatise a hotel rather than a room, especially if your seminar lasts several days and it becomes necessary to find accommodation. Moreover, by privatising a hotel such as the Mirage, you will benefit from numerous services and a perfect setting for organising activities with your colleagues.
Notre restaurant et notre bar vous ouvrent leurs portes pour une soirée qui satisfera tous vos salariés et partenaires. Forgez un véritable team building durant votre séminaire en proposant des activités au cœur du village de Bormes-les-Mimosas : randonnées dans le massif des Maures ou ailleurs, sorties le long de la côte ou visite du village médiéval, le plus difficile sera de choisir !
Bring your employees together for a seminar at the Mirage to discuss various topics of importance to your company while enjoying the ideal setting of our hotel-restaurant.
Préparez votre événement avec sérénité, placez vos objectifs et faites-nous confiance pour vous accompagner tout au long de l'organisation de votre séminaire dans le Var. Épargnez-vous le stress de trouver votre hébergement et votre lieu de restauration en plus de l'organisation de votre séminaire dans le Var et profitez d'une solution clef en main en privatisant votre hôtel le Mirage. Restauration, hébergement, animations, activités et cadre de travail : ne cherchez plus, la privatisation de notre hôtel est la solution que vous cherchez !