Le Mirage Hotel is located in the commune of Bormes-les-Mimosas, in the Var. 
The hotel is housed in an imposing Rivièra-style building.
Halfway between the village of Bormes-les-Mimosas and the sea, you can decide to stroll through the narrow streets of this old village, or go and lie on a nearby beach.
The hotel was completely renovated in 2022 and has 35 rooms with a soft and relaxing atmosphere.
The decoration neat The warm and relaxing bohemian-chic style will make your stay a real moment of tranquillity.
The terrace and its bar with the colours of the southern lands, is the perfect place to enjoy a cocktail, or chat with friends, in the shade of the palm trees.
.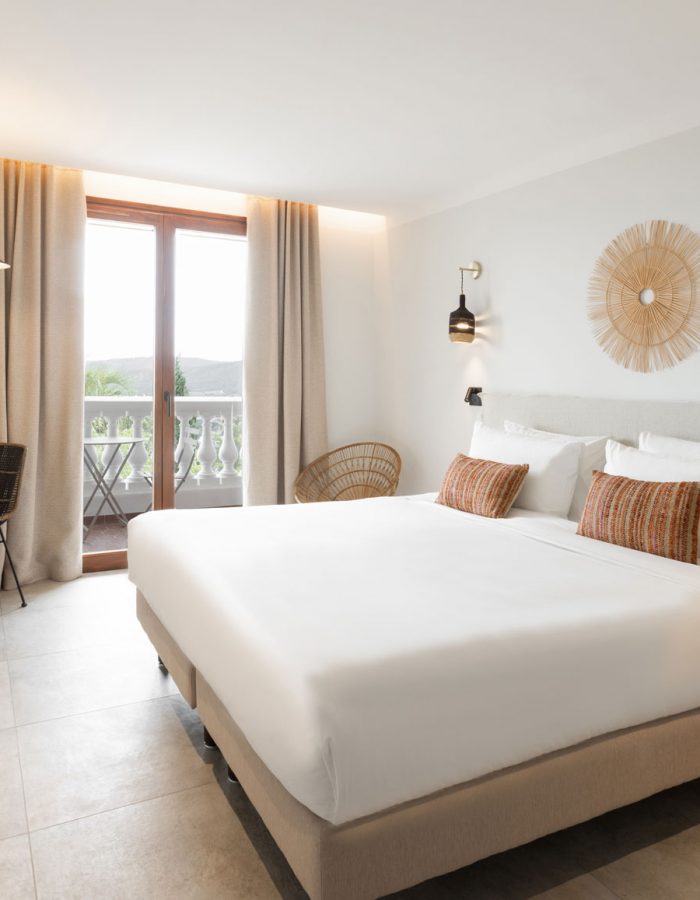 You'll love sleeping at the Mirage
The careful decoration of our rooms, with their natural and warm colours, will seduce you by its softness.
Noble materials, linen, cotton and wood are favoured. A beautiful mix of designer pieces and Italian creations creates a very contemporary harmony where life is good.
Bedding ensures comfort and quality of sleep.
All of our rooms have a breathtaking view of the Mediterranean Sea.
They are all equipped with a large flat screen TV, a safe and a mini bar.
The rooms are extended by a south-facing terrace with a view of the Golden Islands, where you can enjoy your breakfast while gazing at the sea.
A 4-star hotel for a sporty stay
The swimming pool, for swimming or resting, strolling, tasting.
24/7 fitness room for a workout or yoga class (in high season).
Walks for all levels.
Electric bikes can be hired (on request and at an extra cost).
The Mediterranean Sea is close by and you can rent a boat for an unforgettable day at sea (on request and at an extra cost).
The private beaches of Saint Clair and Le Lavandou.
Our team will be able to respond to each of your requests, in order to make your stay unique.
Discovering an unspoilt nature
You will discover a generous and preserved nature.
Quiet coves or fine sandy beaches.
Nature is beautiful here, wild and generous.
Exploring the charming streets of the village of Bormes-les-Mimosas, the Var hinterland, the village of Collobrière.
A trip to the Golden Islands, Porquerolle, Port Clos and Le Levant
And if you want a more festive stay, Saint-Tropez is only 35 minutes away by car, via the beautiful route de la Môle.
A 4-star hotel in Bormes-les-Mimosas?
L'Hotel le Mirage (anciennement Le domaine du Mirage) est l'étape reposante incontournable de vos séjours sur la côte d'azur.
Nouvellement rénové, nous avons imaginé une atmosphère chaleureuse et élégante afin de faire de votre séjour un moment privilégié.
La vue sur la Méditerranée, le calme de la nature enveloppante, l'atmosphère reposante des chambres qui vous invitent au repos.
Faîtes le plein de vitamine D au bord de notre piscine extérieure en prenant un bain de soleil méditerranéen.
After an escapade in the heart of time in the village of Bormes-les-Mimosas, with a stopover in its city centre or in the gardens of Bormes-les-Mimosas, come and rest in our 4-star hotel with its rooms. All of our rooms have a breathtaking view of the Mediterranean Sea and a flat screen TV to watch your favourite series.
Les nuits sont douces au Mirage, la literie douillette, la décoration soignée et inspirée de la nature, aux tonalités méditerranéennes.
Les chambres sont prolongées par une terrasse orientée sud avec vue sur les Iles d'Or.
Au réveil, vous prendrez plaisir à prendre votre petit-déjeuner sur la terrasse de votre chambre pour profiter pleinement du soleil méditerranéen et de la vue sur mer. L'hôtel le Mirage vous propose des chambres doubles pour profiter pleinement de votre séjour en famille ou en amoureux. Pour votre choix d'hôtel sur la côte d'azur, proche de la plage du Lavandou et au cœur de Bormes-les-Mimosas, portez votre choix sur le Mirage hôtel, lieu envoûtant entièrement dédié à votre bien-être. Le Mirage vous offre une expérience hors du temps que nul autre hôtel à Brégançon ou au Cap Benat ne sauraient vous offrir.